The 'solarcoaster' cycles of the Australia solar power industry are an economists dream and a solar business owners worst nightmare.
The latest challenge for the industry to hurdle is the shortage and rapidly increasing price of solar panels. We have heard from the installers in our network that prices have gone up across the board for solar panels manufactured in China by 20-30%.
One major commercial solar installer in Australia has advised their supply agreement with their preferred panel brand had gone up 50% in the last 3 months.
It also seems that having an existing supply agreement at a fixed price is no protection as the Chinese manufacturers are walking away from those contracts and offer new higher prices, despite the risk of legal action.
What is causing the increased solar panel prices?
It seems the perfect storm has been brewing for solar panel manufacturers as there are many factors contributing to the recent price hikes.
Less solar panels are being produced
The Chinese energy crisis has lead to the coal price on the Zhengzhou commodity exchange more than doubling since mid-August and this has translated into higher power prices. As a result UBS Group AG has estimated that the subsequent power cuts in factories could lead to a 30% slowdown in energy-intensive sectors like solar panel manufacturing.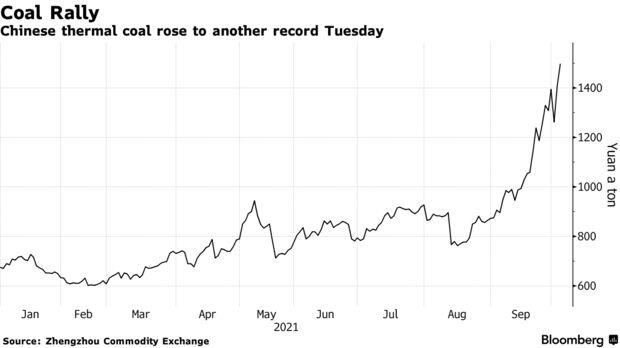 Image source: Bloomberg
This has led to a global shortage of solar panels. There are reports of shipments on the way to Australia being diverted to USA and Europe as larger buying power is winning the fight over remaining supply.
Price hikes on solar panel components
The Covid-19 lockdowns significantly decreased the production of some of the key components that go into a solar panel. Particularly polysilicon, solar glass and aluminium have been hit hard by price increases which are now being translated into wholesale solar panel costs.
Shipment costs from China
Last year a standard shipping container from China would cost US$3,500. These prices have been steadily increasing over the last 12 months now being reported at US12,000. One of our installers who ships panels over directly advised that they were quoted US$23,000 for a single container.
What about non-Chinese solar panels?
Manufacturers who have not based their solar panel production in China are protected from most of the above-mentioned causes. However approximately 90% of the world's solar panels are produced in China.
It has been advised that companies like Q-Cells (South Korea) and Winaico (Taiwan) are completely sold out of remaining stock in Australia as solar installation companies are snapping up all remaining solar panels.
The post Solar Panel Prices Hike Over 30% in October 2021 appeared first on Solar Choice.