Residents in South Australia have the highest electricity rates in Australia.  This explains why going solar is a big motivation for household owners there, with one in three having a solar panels system installed.
In this article, we'll provide you with information on the best solar feed in tariff rates in SA. We'll also give you what you need to know to make an educated decision in choosing an electricity retailer.
If you're looking for the best solar feed-in tariff in SA , scroll below to view a table which displays this information on a regular basis. We also recommend you consider other information beyond just the amount you'll receive from the tariff, so you'll be able to make a more
Is there a minimum solar feed-in tariff in South Australia?
There is currently no minimum solar feed-in tariff rate in South Australia at the moment. It's up to electricity retailers to voluntarily set their own rates, so consumers need to shop around for the best deal.
Find the best Solar Electricity Plan in your area now
Best Solar Feed-In Rates in South Australia

The below table shows the lowest and highest FiT rates for each electricity retailer in South Australia.
RetailerStateMin Solar FITMax Solar FITDetailed ConditionsDiscover EnergySA6.0c16.0cCapped at 300kWh per Quarter1st EnergySA8.0c13.0cCovaUSA0.0c12.0cAGLSA5.0c12.0cSystem size 10kW maxDodoSA11.6c11.6cOrigin EnergySA6.0c10.0cOnly if buy solar through Origin – 10kW maxMomentum EnergySA0.0c10.0cSystem size 10kW maxReAmped EnergySA0.0c9.0cSystem size 10kW maxElysian EnergySA0.0c9.0cSystem size 5kW maxEnergy AustraliaSA8.5c8.5cSystem size 30kW maxAlinta EnergySA8.0c8.0cSystem size 5kW maxTango EnergySA0.0c7.5cGlow PowerSA7.0c7.0cCircular EnergySA7.0c7.0cDiamond EnergySA0.0c7.0cOVO EnergySA0.0c7.0cMojo PowerSA6.8c6.8cCapped at 5kWh per dayQEnergySA6.8c6.8cPeople EnergySA6.8c6.8cPowershopSA6.7c6.7cSystem size 10kW maxEnergy LocalsSA6.5c6.5cPowerdirectSA5.0c5.0cIO EnergySA3.0c5.0cPowershopSA0.0c5.0cSystem size 10kW maxSimply EnergySA4.5c4.5cFuture X PowerSA4.0c4.0cPowershopSA0.0c3.5cSystem size 10kW maxLumo EnergySA3.0c3.0cRed EnergySA3.0c3.0cGloBird EnergySA1.0c3.0cPowershopSA0.0c3.0cSystem size 10kW maxKogan EnergySA2.1c2.1cNectrSA0.0c2.0cAmber ElectricSAMarket linked FIT (Variable)PowerclubSAMarket linked FIT (Variable)Social EnergySAMust install solar and battery through Social Energy
*Please note that we periodically update these tables. Please email us at [email protected] if anything is out of date.
What retailer has the best solar feed-in tariff in South Australia?
At the time of writing (November 2021), Discover Energy has the best solar feed-in tariff in SA, whereby the maximum a customer can get is 16 cents per kilowatt hour (c/kWh), although this is limited to a maximum of 300kWh per quarter. The next best solar feed in tariff is 1st Energy who offer 13c per kWh and we could not find any publicly stated limitations to the quantity of solar power.
Should I only think about solar feed-in tariffs when choosing a provider?

It's understandable that residential owners put a lot of weight in the provider who provides the highest solar feed-in tariff amount. However, we recommend that you adopt a holistic approach here.
There can be cases where the provider draws you in with a high FiT but you still end up with a higher spend as they couple it with higher electricity rates and daily supply charges. Which is why we recommend you consider other reasons beyond just the feed-in tariff when it comes to making a more informed, balanced decision.
This may include non-financial reasons such as going for a more ethical or environmentally friendly retailer. Or a provider that is committed to maintaining high customer service standards by keeping an Australian based staff, as opposed to outsourcing overseas which has become common.
Every household will have to weigh their respective factors on a case by case basis. For those that have large solar systems, they can export plenty of excess clean electricity back into the grid, so a high solar FiT may be an important factor. Conversely, for someone that has a small solar system, they may want to put more weighting towards lower rates or supply charges due to the fact they'll receive less potential charges on their bill.
Find the best Solar Electricity Plan in your area now
History of feed-in tariffs in SA

There used to be a minimum guaranteed feed-in tariff at a generous 44c/kWh, which was in place up until 30 September 2011. This was at the time a big motivational driver for consumers to switch to solar.
Then in 2012, ESCOSA released a draft determination for a transitional solar feed-in tariff of 23c/kWh for SA residents who applied between 27 January 2012 and 30 June 2012.
Previous applications who were lucky enough to receive the premium feed-in tariff before 30 September 2011 were initially on 44c/kWh before this change was put into effect. Those lucky solar system owners had this premium rate locked in until 2028.
However, those who didn't have access to SAs premium feed-in tariff rate would at least receive 6.8c/kWh which was mandated by ESCOSA. Solar Choice recommended that they shop around for the best rate, plan and retailer as now there was competition based incentives for doing so.
In actuality the transitional rate was rather complicated looking back at it. It was set at a significantly reduced rate of 16c/kWh plus an additional set contribution required from electricity retailers who accepted solar customers (i.e. approximately 16c/kWh government rebate plus 6-8c/kWh estimated electricity retailer contribution). This transitionary period was for those who signed up during the two years from 1 October, 2011.
Then towards the end of 2016, ESCOSA decided to eliminate the minimum feed-in tariff for SA.  SA effectively followed NSW and South-East Queenslands decision in removing minimum rates and hence left it up to market competition in determining what rates consumers would receive. The effect of this on consumers was now it was their responsibility to shop around and find the best rate, plan and company they preferred.
The implication of this change was deemed to be relatively small however.
Despite the low feed-in rate, households still continued to switch to solar in droves because of the fact that solar affordability has increased a lot over the last 10 years. Further compounding this is that grid electricity prices are high in South Australia (due to high cost of wholesale electricity)
What are the network limits in SA?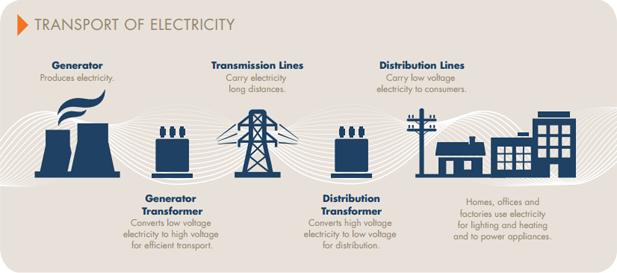 How electricity is transported. (Image via AEMO. Click to enlarge.)
In hindsight you could argue that the original architects of the current solar grid system weren't forward thinking in terms of the ability of solar PV owners to be able to sell excess energy back into the grid.
Hence, the reason why there are network limits on the ability to feed electricity back into the grid as it was originally designed to be unidirectional in nature. Perhaps in the future with advances in grid technology, South Australians will be able to enjoy a higher upper limit on their ability to export back to retailers.
NetworkDescriptionReferencesSA Power NetworksSingle phase: Up to 5kW
3-phase: Up to 30kWEmbedded generation
Conclusion:
Going solar is a great way to save money on your power bills. The payback period has decreased considerably in recent years to an average of 3 -5 years for most residential homeowners. In other words, going solar is still worth it.  We recommend you to consider your specific situation when choosing a retailer, so you can make a balanced decision.
Not installed solar yet? Compare solar quotes online now
Compare Now
The post Best SA Solar Feed-In Tariffs appeared first on Solar Choice.